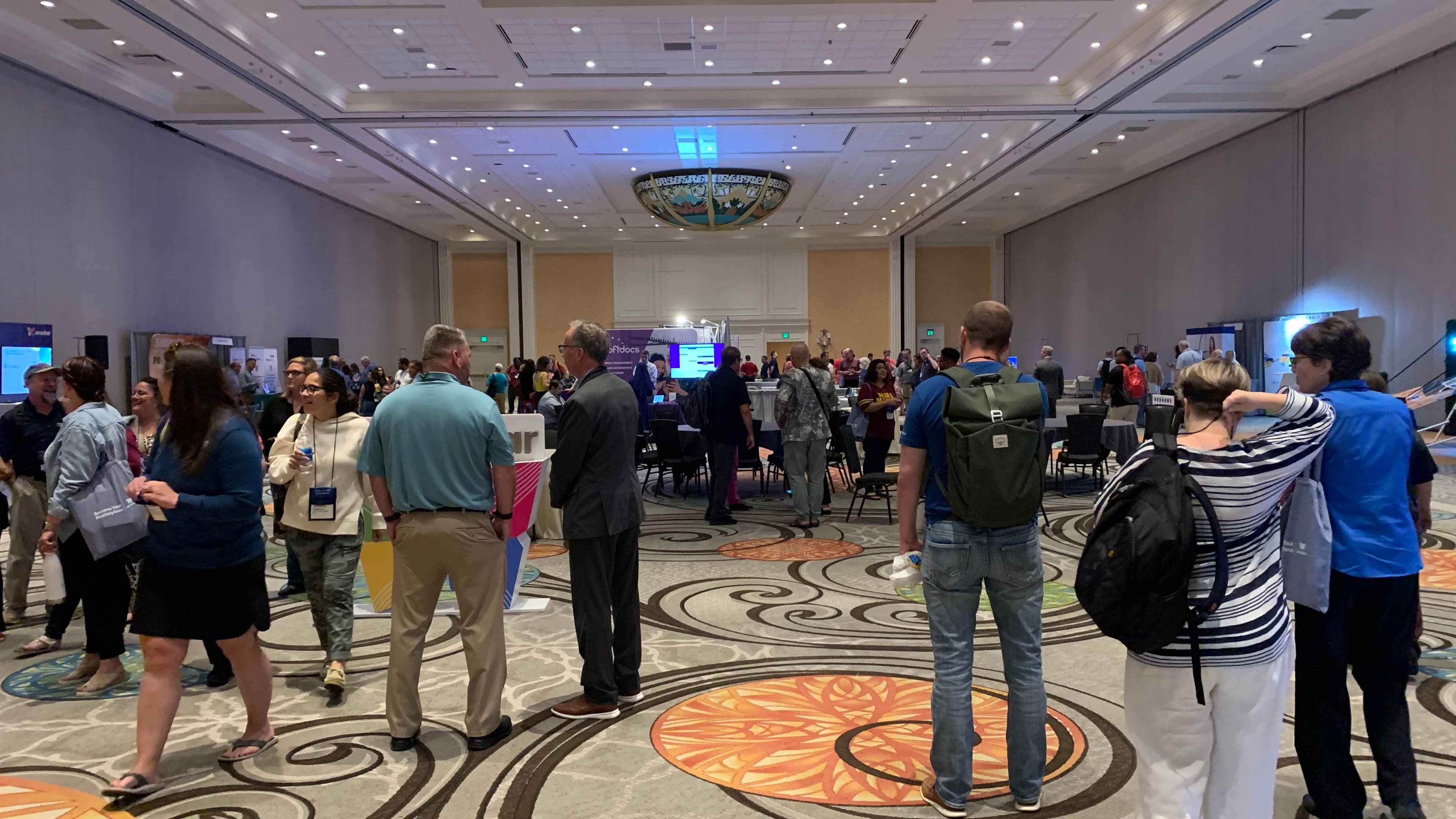 JAM 2023 Recapped: Innovation, Exploration, and Transformation
All Blog Posts
This year, 1400+ members of the Jenzabar community from 300+ institutions came together in Orlando, Florida, at JAM 2023, Jenzabar's annual meeting. With more than 260 informative sessions, dedicated group breakouts, and new solution launches, JAM 2023 was designed to highlight innovation in higher education and Jenzabar's commitment to transforming the industry.
Listen to the EdUp Experience podcast to hear Jenzabar's Vice President of Marketing Carina Ganias and Vice President of Strategy and Innovation Omer Riaz look back at JAM 2023.
Jenzabar Founder, President, and CEO Ling Chai Unveiled New Solutions
The explicit theme of this year's JAM was "Become Your Masterpiece," Jenzabar's new tagline, aligning with its mission and vision for transforming higher education and ensuring everyone, everywhere has the opportunity to achieve their full potential. If this year's JAM had an implicit theme, it was the enduring strength and importance of partnerships. When Jenzabar's Founder, President, and CEO Ling Chai took the stage at JAM 2023, she not only celebrated Jenzabar's 25-year anniversary, but also noted that 20 new members had joined Jenzabar's 25-Year Academy, bringing the total number of members up to 240 unique institutions.
Ling also unveiled Jenzabar's newest innovations: Unified Cloud Platform, Strategic Enrollment Suite, Student Retention Suite, and the new Campus Marketplace powered by Jenzabar. The solutions unite Jenzabar's award-winning technology with Spark451 marketing services and powerful partner solutions so institutions can better respond to higher education's most pressing challenges.
Unified Cloud Platform: Consolidating the IT Clutter
The Unified Cloud Platform enables institutions to maximize the value of their technology investment by bringing together systems across the entire campus, from student success to finance to human resources and beyond. Designed specifically to unburden IT teams and empower student success, the Unified Cloud Platform eliminates data and department silos to improve user experiences across the board.
Strategic Enrollment and Student Retention Suites: Identifying and Engaging More Right-Fit Students
Launched in collaboration with Spark451, the Strategic Enrollment and Student Retention Suites enable institutions to respond to higher education's continuing enrollment declines and retention challenges. With the Strategic Enrollment Suite, institutions use Spark451's targeted marketing services and Jenzabar's powerful solutions to identify and attract more right-fit students, better analyze campaign data, and simplify the enrollment process.
The Student Retention Suite improves student persistence by using advanced analytics and early alert software, enabling institutions to identify at-risk students and intervene quickly. It also gives institutions the means to engage outside influencers—like parents or other family members who have an impact on a learner's decisions—in ways that both comply with FERPA regulations and ensure struggling students get additional support that can be crucial to keeping them enrolled.
Campus Marketplace: Bridging the Education-Employment Divide
At JAM 2023, Jenzabar also unveiled the new Campus Marketplace, the next iteration of Jenzabar's commitment to enabling educational equity, accessibility, and affordability for learners of all ages. Campus Marketplace supports alternative education by empowering institutions to build and grow their non-traditional program offerings. Campus Marketplace unites online storefront capabilities with a robust program management system, strategic marketing services, and prebuilt, skills-based curricula. In doing so, it provides institutions with a holistic solution to launch and expand non-traditional programs and build brand and program awareness to enroll more students.
JAM 2023: Finding Opportunity in Adversity
In one of JAM 2023's standout moments, athlete, actress, and public speaker Aimée Mullins—a 1996 Paralympian and the first double amputee in history to compete in Division 1 NCAA track and field—advocated that we get comfortable with being uncomfortable, because it's in those spaces where true innovation begins.
At Jenzabar, we will continue to look toward the future of higher education, finding innovative steps forward that will transform how institutions and students perceive and pursue success. You can learn more about our latest solutions here or listen to a podcast summarizing JAM 2023 here!
Stay tuned for more information about our exciting path forward!

Recent Blogs
Higher Education Trends
Demystifying AI-Powered Automation: A Practical Example in Higher Education
September 27, 2023
Many colleges and universities are worried about artificial intelligence, but how can AI benefit an institution?
New Student
Finding Students Where They Are: Fueling Enrollment and Building Brand Awareness Among Gen Z
September 20, 2023
What does Gen Z want, and how can institutions use this understanding to boost their digital footprint and enroll more students?