4 Ways to Engage Parents During the College Admissions Process
All Blog Posts
In their annual College-Bound Student Survey, enrollment marketing and strategy company Spark451 identified family as the most powerful influencers when it comes to students choosing a college. For college admissions staff, who often field more questions from parents than from students, this likely won't come as a surprise. What is surprising, however, is how often college admissions offices will focus most of their recruitment efforts on prospective students when they might make just as much headway engaging parents.
Parents have a significant influence on their child's college choice. This is why, alongside its annual College-Bound Student Survey, Spark451 conducts a companion survey: Parent Survey of College-Bound Students. In it, Spark451 compiles the responses of over 1,500 parents from 38 states to learn more about parent behavior when it comes to helping their children during the college search process. After examining the survey results, here are four things college admissions offices can do to improve the way they market to parents.
Find Them on Facebook
Gen Z might be on Instagram, but their parents still use Facebook. In fact, Spark451's Parent Survey found that more than half of parents surveyed used Facebook to seek out information during the college search process. What this means for admissions offices: As they strategize ways to capture prospective student attention on Instagram, they should also prioritize Facebook.
Many colleges and universities already have a robust Facebook presence, one that focuses on highlighting the school's academic excellence or student achievements. But many are not yet using Facebook to its fullest extent. There are ways to set up live discussions, answer commonly asked questions, promote virtual tours, and more. All these tools can be used to specifically promote your school to the prospective parent community.
Tailor Your Website
Another significant finding of the Parent Survey is that, when seeking answers to questions, nearly 90% of parents went to the college's website. This finding is significant because many college websites are not set up to explicitly address parent questions. Yes, most institutions have an "admissions" anchor in their banners where they keep application how-tos, and they have sections that describe student life and academic offerings, but few have sectioned out and obviously identified areas solely for parents.
Designating an area for parents on a college's website is a controversial idea. Many higher education institutions advocate student independence and agency. In some instances, creating an area for parents may seem antithetical to student success objectives. But the truth of the matter is that admissions offices are competing for a shrinking pool of students. And given how important parents are to the college decision process, institutions may want to consider addressing parents directly, providing answers about finances, loans, academic requirements, and other frequently asked questions. Maintaining a section for frequently asked parent questions—and making that section easily findable—is a way to do this.
Create Memorable Mailers
While it's true that most parents want to be communicated with via email, the Parent Survey also found that direct mail was the marketing format which left the strongest impression. Creative mailers are what parents remember most.
Institutions looking to break through the noise of higher education advertising should heavily consider their print presence. The more memorable the mailer, the more likely a college is to be mentioned when a child asks their parent, "Where do you think I should apply?"
Promote Cost and Quality
The two things that parents consider most when advising their child during the college search process are cost and academic quality. Spark451's survey found that cost was equally, if not more, important than academic quality. That said, 62% of respondents said that their child didn't necessarily enroll on the least expensive school on the list.
Higher education Institutions looking to engage parents should consider these statistics when marketing. If there's not much a college can do to address its costs, then it needs to promote quality. And if an institution's rankings are not as competitive as some of its peers, admissions teams will need to focus on promoting an institution's value.
As regular college admissions decisions roll out, now would be a good time for colleges and universities to consider the best ways to influence the influencers. To gain a deeper understanding of the Parent Survey of College-Bound Students, watch Spark451's webinar here.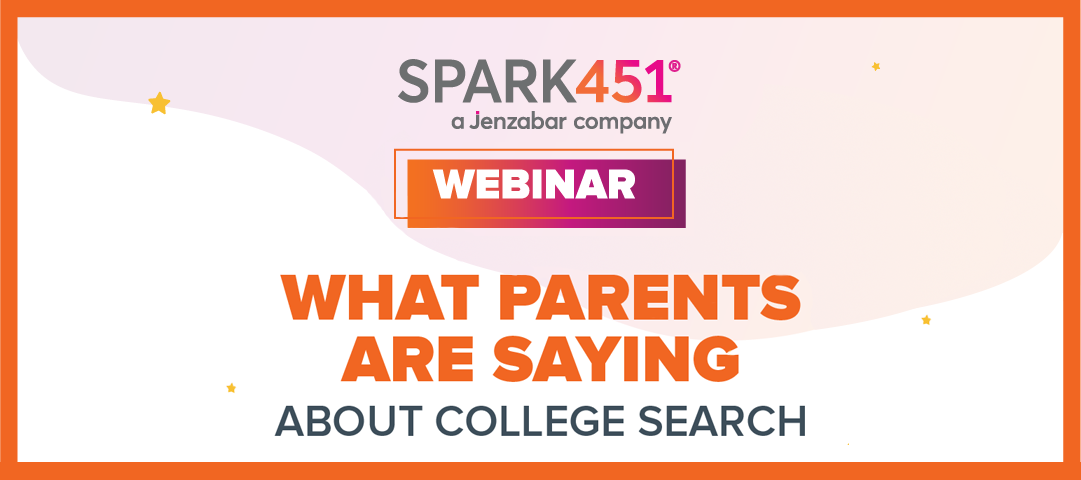 Recent Blogs
Higher Education Trends
Are You Ready for the FAFSA Simplification? Here's What You Need to Know.
November 29, 2023
The simplified FAFSA comes out on December 31. How can you prepare for its impact on your campus?
Higher Education Trends
Lessons Learned From Non-Enrolling Students
November 15, 2023
What can institutions learn from students who say "no," and how can this help future students say "yes."