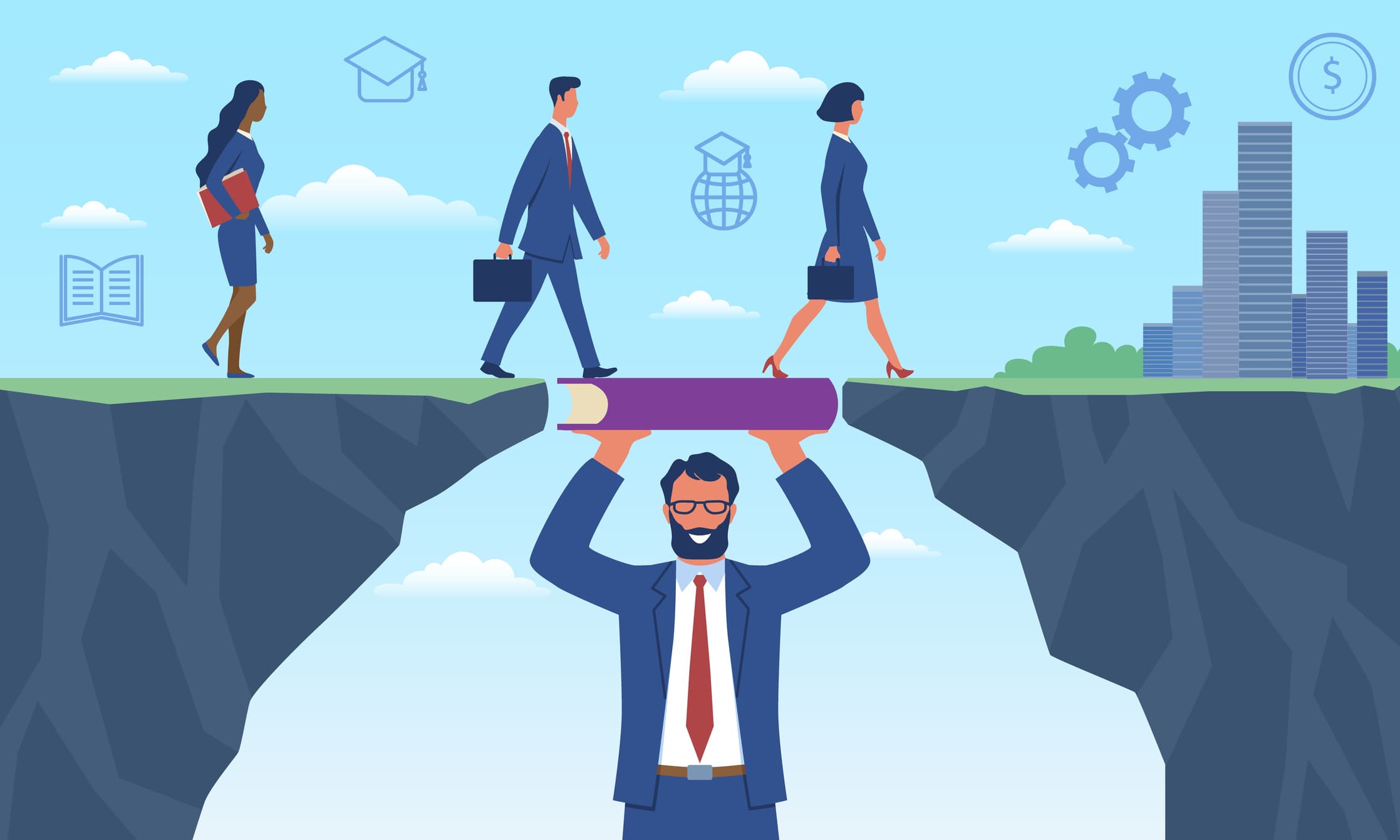 Can Higher Ed Bridge the Chasm Between Education and Employment?
All Blog Posts
Investigating how the pandemic impacted college and university enrollments is its own chapter in the history books. But if the pandemic alone were responsible for the current higher education enrollment crisis, we might assume that enrollments will gradually rise as the pandemic's impact wanes. This isn't necessarily true. Enrollments are also impacted by a demographic cliff, rising inflation and costs of college, a hotter-than-normal job market, and—what many don't want to talk about—widespread doubt over the value of a college education.

There's much evidence to show that education has intrinsic value. However, the functional value of a degree is becoming difficult to determine. College debt has become so immense that an entire generation of borrowers are delaying (even forgoing) marriage, home ownership, and having children. As employers turn to skills-based hiring and begin dropping bachelor's degree requirements, some college degrees are beginning to lose their currency. For degree programs to regain their value, colleges and universities will need to consider new ways to better connect the four-year degree to the job market.
Closing the Gap Between Education and Employment
In looking at dwindling enrollment numbers and the chasm widening between a college education and a career, it's clear that institutions wanting to draw more learners to campus need a way to bridge the gap. In fact, many institutions have already started doing this.
In its 2022 survey, "Innovating to Create a More Flexible Path for Higher Education," Jenzabar polled 149 higher education administrators and found that more than 50% of respondents said their institutions were partnering with local businesses to provide in-demand skills training and workforce training. Nearly half the campuses surveyed were offering or planned to offer alternative credentials like non-credit certificate programs and stackable degrees—off-base learning modes that allow students to take inexpensive, skills-based courses.
Working with local businesses and offering more skills-based learning options seems like a simple solution to bridging the education/employment gap. Yet offering these types of courses is more complicated than creating a syllabus and placing it in a course catalogue. When asked what barriers were preventing their institutions from investing in flexible learning options like alternative credentials and other non-credit courses, most survey takers weren't sure. Those who did answer the question cited tight budgets, lack of support staff, and technological limitations.
The Need to Invest Further in Education Technology
Offering micro-credentials, certificates, or CBE programs alongside more traditional courses of study can necessitate additional systems of record, grading platforms, and advanced hybrid learning technology.
In Jenzabar's most recent survey, only 32% of respondents said their institution had a system in place that allowed them to accept registration and payment for non-credit courses, micro-credentials, and certificate programs. Without this type of technology in place, it's going to be difficult for institutions to successfully offer the types of skills-based courses that can help students find relevant careers after they graduate.
Colleges and universities certainly have the breadth and depth of knowledge to offer skills-based courses, but if they're serious about bridging the education/employment divide, they'll need the right technology to do it.
Not Yet Seeing a Demand for Skills-Based Courses? It's Coming
Given recent enrollment, job market, demographic, and inflation trends, it's in many institutions' best interest to start investing in alternative modes of education, especially those that center around skills-based learning. Skills-based education is currently in high demand from students and employers alike, and institutions unwilling or slow to act on this demand may find themselves facing real issues of sustainability.
Can colleges and universities bridge the chasm between education and employment? Absolutely. If they want to. And they should. As higher education institutions look to improve their curriculum and expand technology investments in the coming years, they should do so with an eye toward establishing firmer connections between education and employment. This will go a long way toward alleviating the doubt students have regarding the value of a college degree.

Recent Blogs
Higher Education Trends
Demystifying AI-Powered Automation: A Practical Example in Higher Education
September 27, 2023
Many colleges and universities are worried about artificial intelligence, but how can AI benefit an institution?
New Student
Finding Students Where They Are: Fueling Enrollment and Building Brand Awareness Among Gen Z
September 20, 2023
What does Gen Z want, and how can institutions use this understanding to boost their digital footprint and enroll more students?