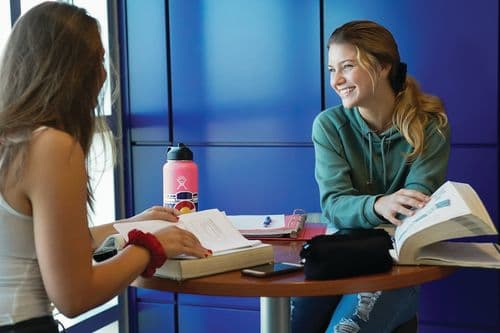 How Can a Robust Communications Solution Improve Your Campus?
All Blog Posts
Even before the pandemic, Mid-Plains Community College, a public community college in southwest Nebraska, was originally looking to integrate a texting solution into its college communications strategy. But as the pandemic forced both current and prospective students off campus, stakeholders at the college knew they needed a communications solution that went beyond mere texting capabilities. Situated across seven campuses, the college wanted a way to improve its communication processes.
After gathering input from different departments on campus and outlining its objectives and strategy, Mid-Plains Community College decided to implement Jenzabar Communications Plus. "We started looking for tools that we already had access to. We already had a great relationship and rapport with Jenzabar," said Kelly Rippen, Vice President of Student Affairs.
By implementing Jenzabar Communications Plus, Mid-Plains Community College has allowed departments to create innovative strategies to drive growth and engage students throughout their lifecycle. Here is the process the college went through to dramatically improve communications across its seven campuses.
Defining Institution-Wide Objectives to Develop a Unified Communications Strategy
Once the college decided to move forward with purchasing a communications solution, the team in charge of the unification strategy knew it needed to identify key areas that this new solution could help them address. "We needed to make data-driven decisions," said Rippen. "What types of students do we have, how do we reach them, and what do they need to know?"
After seeking input from campus stakeholders, Mid-Plains Community College came up with a series of objectives that would make up the foundation of a modern communications strategy. Stakeholders knew they needed a system for tracking communications to ensure students didn't fall through the cracks. They also wanted to increase student engagement, streamline workflows, create a strategic enrollment plan, and strengthen collaboration between departments, especially between academic departments and student affairs.
Creating a Three-Pronged System to Engage Students Throughout Their Lifecycle
Previously, the college had spent a great deal of time trying to send mass, tailored emails to its students. Many staff even relied on personal cellphones for outreach. "We pride ourselves on outstanding, personalized student-centered services," said Mindy Hope, Director of Recruiting and Admissions. "We knew we needed that right tool to bring it all together, and our entire college was on board."
To help drive campus growth, Mid-Plains Community College came up with a three-pronged communications strategy that tackled recruitment, retention, and relationship-building.
The aim of the recruitment funnel was to improve prospective student experiences by tracking interactions and determining what touchpoints were most productive. The retention funnel would focus on strategically using communications to improve current students' experiences and promote success and completion. The relationship funnel aimed to support and build future relationships with students.
Streamlining the Communications Process With Jenzabar Communications Plus
After identifying objectives and coming up with a strategy, Mid-Plains Community College decided to expand its partnership with Jenzabar to deliver unique, seamless, campus-wide communications.
Jenzabar Communications Plus allowed the college to create messages that were tailored, targeted, dynamic, and automated. "With Jenzabar Communications [Plus], it's easy to tailor hundreds of messages that go out," said systems analyst Tara Naughtin. "If we want to target, we can use data to help us target. We can limit who the messages go to, so not everyone receives emails they don't need."
Jenzabar Communications Plus also allowed Mid-Plains Community College to engage in dynamic messaging. The college wanted to send emails to degree-seeking, fall-semester students who hadn't yet registered for the spring, and they wanted to continue to remind students to register as the weeks progressed. With Jenzabar Communications Plus, the college could automate these targeted emails, sending reminders only to students who remained unregistered, a number that decreased weekly.
"[Jenzabar Communications Plus] allows us to automate messages and then walk away. When you walk away from the setup process, you can walk toward those students who need help registering," said Naughtin. "We can provide better customer service because we can step away from all that setup."
Launching a multi-campus, cross-departmental communications strategy took college-wide collaboration. "We pulled departments and campuses together. And this collaboration will continue to improve because of Jenzabar Communications [Plus]."
Uniting Campuses and Planning for the Future
In the first three months of using Jenzabar Communications Plus, Mid-Plains Community College sent out 10,000 text messages, decreased the redundancy in messaging, and began addressing the gaps between departments and campuses. The college can schedule outreach so that it's not too frequent, and it can now automate important messages.
By facilitating seamless internal messaging, Jenzabar Communications Plus has also allowed the college to improve workflows. Meanwhile, because staff can quickly reach out via text to students in need, fewer students are falling through the cracks. Mid-Plains Community College is particularly excited about its target recruitment campaign, which allow students to directly text with recruiters from their field of interest.
Modern communications solutions allow colleges and universities to better collaborate so that they can maximize resources and continue to innovate. Institutions looking for creative, digital solutions to a host of communications issues should invest in a robust communications solution like Jenzabar Communications Plus.



Recent Blogs
Higher Education Trends
Reframing the Graduate Student Enrollment Journey
December 6, 2023
Graduate students don't follow traditional enrollment cycles. How can you shift your enrollment strategy to reach prospective grad students?
Higher Education Trends
Are You Ready for the FAFSA Simplification? Here's What You Need to Know.
November 29, 2023
The simplified FAFSA comes out on December 31. How can you prepare for its impact on your campus?