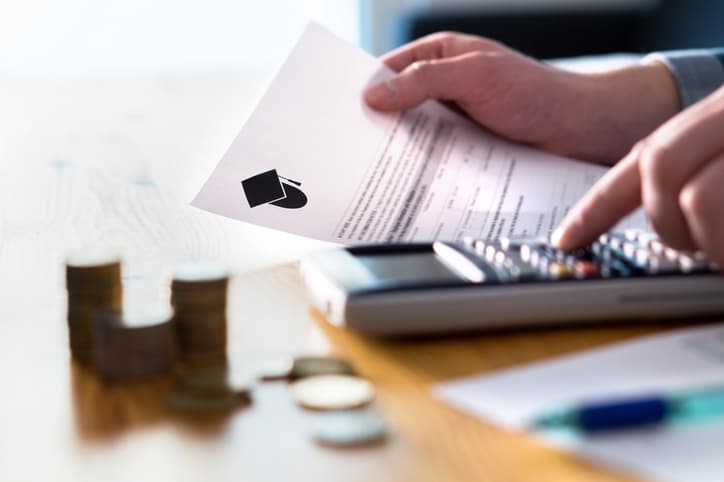 Financial Literacy as a Student Success Strategy
All Blog Posts
One out of every five U.S. students lacks basic skills in financial literacy. This means that about 20% of students on college campuses do not possess the ability to understand and utilize basic financial competences like budgeting, financial management, and investing. As financial literacy can play an integral role in student success, colleges and universities looking to bolster student success strategies should be asking themselves: What can we do on campus to enhance financial literacy for students?
Promoting financial literacy for students on campus can be a critical component to students' short- and long-term achievements. In the short term, it helps students persist in their educations. In the long term, being financially literate helps graduates manage debt, engage in successful careers, and build wealth.
How Does Promoting Financial Literacy Support Student Success?
Many students begin their studies without fully understanding the expenses accrued in the degree-earning process. In fact, 40% of undergraduate degree-seeking students drop out, and 38% of those students said their departure was due to financial pressure.
Financial pressure can occur for several reasons but is often impacted by changes to family finances or financial aid. Facing these financial disruptions without being fully financially literate may mean that students don't understand the ways they can manage their debt to persist in their education.
Promoting financial literacy for students would mean teaching them about debt management, financial planning, and budgeting. By giving students these tools, institutions empower them to plan out semester-by-semester budgets and stay flexible should their family situations, grants, or loan amounts change. Understanding the big picture when it comes to their debt can also help students set smarter goals, enabling them to maximize their academic potential or better juggle employment with education.
How Does Financial Literacy Enable Post-Graduation Success?
Carrying student loan debt can inhibit a student's post-graduation success, and students today carry a great deal of debt. The average federal student loan debt is now over $36,000 per borrower and the average private loan debt is closer to $55,000. According to a CNBC survey, 81% of adults with student loan debt claim that it has caused them to delay key life milestones like getting married, having children, or buying a house.
Gaining skills in financial literacy won't enable students to leave college debt-free, but it will help them better manage debt so that it doesn't impede their life goals. By developing financial literacy early in their undergraduate careers, students understand the type of salaries they'll need to offset the impact of their college loan debt. This can help them choose major tracks, internships, and extracurricular opportunities.
Financial literacy also enables graduates to select the method of debt repayment that best works for their lifestyles. It gives them the knowledge to invest money, refinance or consolidate loans, and fast-track their financial goals.
How Does Promoting Financial Literacy Impact Institutional Success?
While persistence is essential to student success, student retention is equally important to institutional success, and financial literacy helps institutions retain more students. Students who drop out of college often don't understand the impact of that decision—they end up burdened with debt and without the degrees needed for high-earning jobs. By promoting financial literacy, institutions can underscore the detriments of dropping out and give students the tools they need to stay enrolled.
Students who are financially literate may also be more successful in making use of their degrees, earning additional degrees, and building wealth. These students will have the incentive and the means to become alumni advocates and give back to their schools.
How Does an Institution Promote Financial Literacy on Campus?
To support their student success initiatives, institutions should look into creating financial literacy programs on campus. These programs can take the form of a required first-year course, or be promoted as a continuing lecture series.
Colleges and universities can also create more personalized communication strategies that focus on providing student borrowers with clear, timely, and personalized information to help them reapply for aid and maintain their grant eligibility. They could notify student borrowers about financial literacy seminars and implement the type of modern technology necessary to create seamless, user-friendly financial aid application processes. This will keep students from missing important aid-related deadlines.
As student debt continues to grow and students and families evaluate the return on investment of a college education, it is becoming increasingly important for learners to improve their financial literacy. It's vital for institutions that are looking to improve student retention and better engage alumni, and it's essential for students looking to succeed during their college years and after they graduate.

Recent Blogs
Higher Education Trends
Are You Ready for the FAFSA Simplification? Here's What You Need to Know.
November 29, 2023
The simplified FAFSA comes out on December 31. How can you prepare for its impact on your campus?
Higher Education Trends
Lessons Learned From Non-Enrolling Students
November 15, 2023
What can institutions learn from students who say "no," and how can this help future students say "yes."