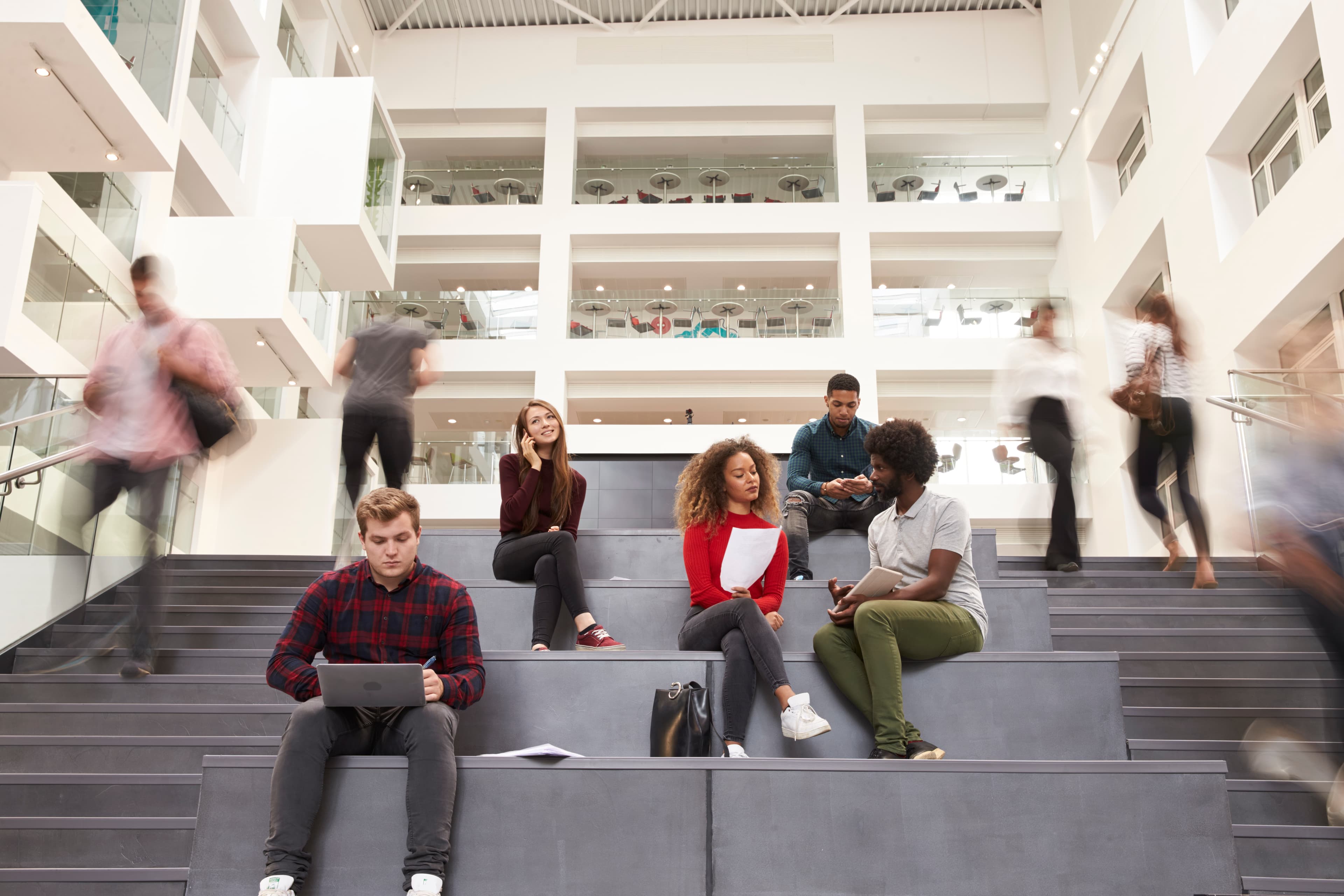 The New Digital Campus: A Modern Approach to Higher Education
All Blog Posts
The pandemic forced a reluctant higher education industry to adopt transformative and modern technologies quickly to properly serve students. While the shift was sudden and unexpected, it has become clear that this digital transformation will reach beyond the adoption of new technology and extend into operational changes that impact institutions on a fundamental level. Colleges and universities will evolve and implement new environments, namely the digital campus, that meet the expectations of today's learners.
At the core of today's transformation is the digital campus, an ecosystem in which technology is a driving component of education rather than an optional resource.
What Are the Characteristics of a Digital Campus?



A digital campus incorporates technology into nearly every aspect across social, academic, and administrative activities. Some of the characteristics of a digital campus are outlined below.
Seamless Anytime, Anywhere Access
Today's students demand quick access to personal information, academic materials, and learning tools using modern, user-friendly applications. Now that online learning has gained even more traction

, students require anywhere, anytime access to class materials, lectures, as well as professors and teaching assistants. Students should also be able to check on requests and information about academic status, financial standing, campus living, and more.
Personalized Communications Across All Channels
Engaged students are successful students.

Faculty and advisors need to use channels that enable better engagement with students, such as social media, web chat applications, and even text messaging. Students should be encouraged to join group chats and interest groups to spark collaboration and engagement.
Easy Access to Shared Data
The digital campus centralizes

data from disparate sources and empowers staff with easy access to analytics tools. This enables more informed decision-making and better collaboration between departments.
Self-Service Options
Digital engagement channels like c

hatbots

can provide students with an automated, self-service channel for commonly asked questions. By allowing students to ask questions through a chatbot, institutions can free up time for staff to engage personally with students on more complex challenges.
Modern Recruitment Tactics
The digital campus enables new student recruitment strategies and methodologies. This can mean giving virtual tours, delivering personalized communications, and sharing readily available information about the institution and student success to improve enrollment.
Frictionless Financial Aid
Financial aid can be confusing. The new digital campus enables students to apply online for financial aid using streamlined and guided processes that make it easy to track and compare offers.
What Does it Take to Enable a Digital Campus?
A digital campus is a comprehensive ecosystem that brings together modern technologies seamlessly; no single technology stands alone. Here is what institutions require to build a digital campus.
Integrated ERP and Student Information Systems


The student information system (SIS)

manages the student lifecycle by storing student data in a central location and sharing it with other departments across the university system. Enterprise resource planning (ERP) systems support institutional operations and data, such as financial management and planning, human resources, and campus security. The

digital campus integrates the SIS and ERP systems

so data can be transferred seamlessly between applications in real time.
Cloud Computing


Cloud computing has become essential in the modern world for businesses and consumers alike. The cloud enables higher education institutions to become more agile, scalable, and flexible, allowing them to adapt to rapid and unpredictable changes more fluidly. The cloud can also introduce new cost-saving opportunities and operational advantages over legacy on-premises architecture. This makes the cloud an ideal network for the digital campus.
Sophisticated Cybersecurity


Institutions have vast amounts of highly sensitive data, including student health and financial information, staff payroll and 401K information, and critical research and organizational data. As more endpoints connect to the network due to the rise of online learning, the digital campus requires sophisticated and modern cybersecurity capabilities that can combat threats and help reduce risk.
Disaster Recovery


The pandemic and rapid shutdown of the global economy reminded businesses around the world, including higher education institutions, of the importance of having a multi-layered disaster recovery and a business continuity plan in place. The digital campus is engrained with these capabilities to ensure students can continue to learn without disruption, despite external circumstances.
Mobility


Mobility is a core tenant of the digital campus. Any new application or technology that is meant to integrate into the modern digital ecosystem must be built with a mobile-first approach to ensure that students and users across campus can access resources and

have a satisfying experience on any device

.
Disruptive Technologies
Alongside the rise of the internet of things (IoT) and edge computing, the digital campus needs to accommodate and adopt new and emerging technologies like augmented reality applications. This will help institutions evolve and keep pace with the global digital ecosystem. The digital campus must utilize a framework that embraces innovation.
Embracing and adopting the digital campus in higher education requires institutions to seek out and leverage modern technologies or update existing platforms to make room for innovation. As student demands change and the education environment shifts, having a modern ecosystem that can adapt over time will give colleges and universities an edge.

Recent Blogs
Higher Education Trends
Are You Ready for the FAFSA Simplification? Here's What You Need to Know.
November 29, 2023
The simplified FAFSA comes out on December 31. How can you prepare for its impact on your campus?
Higher Education Trends
Lessons Learned From Non-Enrolling Students
November 15, 2023
What can institutions learn from students who say "no," and how can this help future students say "yes."