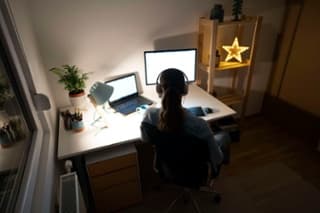 How Higher Education Technology Can Help the Student Mental Health Crisis
All Blog Posts
Colleges and universities are currently experiencing an alarming surge in depression and anxiety on campus. Experts, linking the surge in mental health-related issues to students' feelings of isolation, are warning that if colleges don't act, they'll be dealing with dueling pandemics: COVID-19 and student mental health.
Though institutions have reinstated in-person classes and relaxed some COVID-19 protocols, pandemic-related depression and anxiety remain high. Students who test positive, as well as their close contacts, are still required to quarantine, and many restrictions are still in place. With mental health staff overwhelmed, schools are searching for other ways to alleviate student stress, depression, and anxiety.
Luckily, the tools institutions need to help address higher education's current mental health crisis may already exist on their campus.
How Can Schools Alleviate Feelings of Isolation and Improve Student Success?
One of the most immediate ways institutions can address student mental health is by doing more to foster a sense of community, especially between students, their professors, and their advisors. Studies have identified interactions with faculty and staff as a large factor of post-secondary success. Connecting with these authority figures improves student engagement, academic performance, and ultimately encourages persistence.
But fostering this connection isn't as easy as one might think. A surprising number of barriers keep faculty and staff from conducting meaningful outreach. Poor cross-departmental communication, decentralized outreach efforts, and unclear messaging can impact the connection a student feels with their campus communities as well as their understanding of the resources available to them.
Turning to technology to help deepen the feeling of connection between students and staff may seem counterintuitive. Yet many technology solutions that schools currently possess can help alleviate feelings of isolation, deepen a student's sense of belonging, and ultimately influence their success.
Communications Solutions Can Keep Students Connected to Their Campus
Your institution may already be doing its utmost to reach out to students. However, many colleges and universities have siloed departments that each send a dozen emails a week. When this happens, inboxes become flooded, worsening a student's feelings of information overload and anxiety. Schools struggling to connect with students often suffer from a lack of centralized messaging.
The good news is that new campus communications solutions give institutions several tools to strengthen outreach efforts. Departments can consolidate communications, lowering the quantity and raising the quality of the messages students receive. Some communications solutions come with texting capabilities, so if an institution wants to set up advisor meetings or advertise a community event, they can reach students quickly on their preferred channel.
New solutions also allow faculty and staff to collaborate on student concerns. Those who interact with a particular student can share information and ensure that student gets the outreach they need to feel connected to campus.
Retention Solutions Can Better Identify and Allow Staff to Respond to At-Risk Students
Often, institutions use retention systems to track certain student demographics—first-generation students, nontraditional students, or student athletes, to name a few. These systems look for behavioral trends in order to facilitate early intervention and promote student success.
But retention solutions can also be configured to identify students experiencing symptoms of depression and anxiety. Faculty and staff who note a decline in a student's executive functioning, disinterest in activities or discussions, or other signs of depression and anxiety can send alerts to a student's advisors, deans, or other student success coordinators. Staff can then respond to alerts, reaching out to students and setting them up with the necessary resources. Knowing that their mentors see them, are concerned, and want to be supportive can help students feel less isolated.
AI Chatbots Can Help Direct Struggling Students to Necessary Resources
Chatbots become essential when students need help but are unable to reach out or physically speak to someone. Students who work during typical advising and office hours or students who are in the throes of a mental health crisis can get questions answered in real time, even after faculty and staff have gone home.
Modern chatbots should comply with the Clery Act, which—among other things—requires that institutions give timely warnings of incidents that threaten the safety of students and staff. These chatbots immediately flag conversations that indicate self-harm or threats towards others. They provide confidential notifications through the appropriate channels and enable the students struggling most to get the help they need, fast.
Address Students Isolation With Community-Building Solutions
Universities encourage student independence, and many take the position that help is available if students seek it out themselves. What the current student mental health crisis makes clear is that those experiencing depression and anxiety might not be fully able to seek help without outside assistance. Even when they can ask for help, institutions might not have the infrastructure in place to get students the counseling they need.
To combat pandemic-driven feelings of isolation and to enable student success, institutions need to foster community, better identify at-risk students, and ensure students are aware and making use of available resources.
Modern student information systems can help institutions enable more impactful outreach and deepen a student's sense of connection to their campus. Retention, communications, and chatbot solutions are fast becoming essential to alleviating stress, isolation, and depression—something all campuses and their students urgently need.

Recent Blogs
Higher Education Trends
Are You Ready for the FAFSA Simplification? Here's What You Need to Know.
November 29, 2023
The simplified FAFSA comes out on December 31. How can you prepare for its impact on your campus?
Higher Education Trends
Lessons Learned From Non-Enrolling Students
November 15, 2023
What can institutions learn from students who say "no," and how can this help future students say "yes."