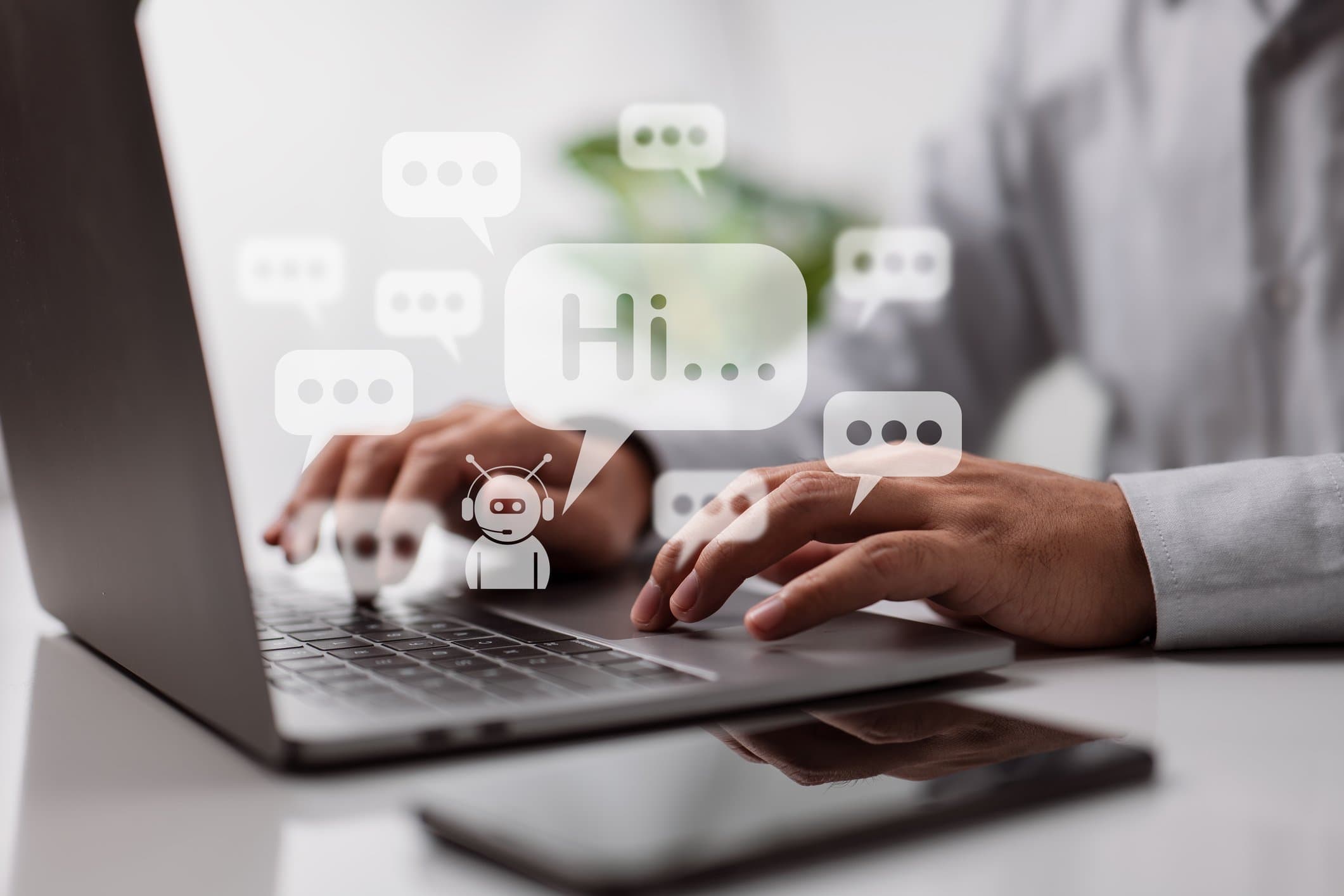 Businesses Are Using Chatbots. Why Colleges and Universities Should, Too.
All Blog Posts
If it seems like nearly every website you've visited recently greets you with a chatbot, you're not imagining things. There was a surge in chatbot adoption during the pandemic when customer support teams were sent home and support requests rose. For customer service departments, chatbots can help ease the support burden for staff and give consumers a means to resolve easy problems quickly. While many higher education institutions don't necessarily have dedicated "customer service" departments, a lot of departments on campus are, in essence, service centers. For this reason, chatbots can be an indispensable tool for colleges and universities.

Whereas businesses use chatbots almost solely for customer support purposes, a chatbot on a college or university website or portal can play a much larger role. This is certainly what the Community College of Beaver County (CCBC) found when it implemented Jenzabar Chatbot during the pandemic. Below, we explore the significant impact that deploying a chatbot had on CCBC's campus.
Chatbots Allow for More Comprehensive Student Support
One of the main reasons CCBC decided to implement a chatbot was to help with student IT support during the pandemic, especially after hours. Originally, the college was working with a call center. While the center was helpful in handling simpler tasks like password resets, it was ultimately limited in the help it was able to provide.
A chatbot, on the other hand, could be accessed 24/7 and could be programmed to answer college-specific questions and direct students to resources. Students could get IT questions answered at 2:00 in the morning, or find admissions information at 2:00 in the afternoon, and they could get answers to their questions fast.
Part of why CCBC selected Jenzabar Chatbot was because it allows for unlimited users and comes out of the box with hundreds of pre-configured question-and-answer templates. These can be deployed uniquely in different departments across campus. Jenzabar Chatbot also comes equipped with a student satisfaction survey. After someone interacts with the chatbot, they get a question asking about their satisfaction with the interaction and the option to pick an emoji, making it easy for staff to get a pulse on student sentiment. For CCBC, this allowed each department to assess their answers' effectiveness and tweak them where necessary.
Chatbots Simplify Processes and Enable More Productivity
Administrative processes throughout campus can be filtered through a chatbot. This enables students to answer questions themselves, and gives staff more time to work with students or engage in high-priority projects and initiatives.
For CCBC, the chatbot effectively took care of afterhours service requests and simultaneously assisted campus staff during business hours. For CCBC's IT department, the chatbot dramatically reduced support calls. The department went from fielding 45 service calls a month to receiving 4, giving IT staff back valuable time.
Chatbots Demonstrate Rapid Time-to-Value
By using Jenzabar Chatbot's preconfigured question and answer templates, CCBC was able to get the chatbot up and running across 15 departments in 30 days. While it's difficult to calculate the monetary value of time saved throughout each of the 15 departments, for the IT team, the decrease in support call times alone was estimated to have saved CCBC $8000 every year.
Even more noteworthy: About 13% of the messages sent through Jenzabar Chatbot were sent to the admissions office. There is a great deal of value to be found in streamlining and simplifying admissions processes via chatbot. For CCBC, adopting Jenzabar Chatbot to aid in the admissions process meant that prospective students could get admissions questions answered easily and stay engaged. For current students, the chatbot could quickly address registration concerns, enhancing the student experience and encouraging continued enrollment.
Chatbots Are Fast Becoming a Campus Necessity
On a college campus, chatbots can help with financial aid, promote campus events, or simplify the enrollment process. As more campuses go hybrid or fully remote, chatbots will become increasingly useful in keeping constituents engaged and informed. And chatbot technology is only improving. Many chatbots can also integrate with your current ERP and student information systems and will soon allow students to do things like register for classes, apply for student housing, or pay tuition. They will also allow faculty, staff, parents, and prospective students to answer important questions and access critical resources.
To read more about how CCBC was able to see an immediate return on their chatbot investment, and learn how they plan to use Jenzabar Chatbot in the future, download the case study!



Recent Blogs
Higher Education Trends
Demystifying AI-Powered Automation: A Practical Example in Higher Education
September 27, 2023
Many colleges and universities are worried about artificial intelligence, but how can AI benefit an institution?
New Student
Finding Students Where They Are: Fueling Enrollment and Building Brand Awareness Among Gen Z
September 20, 2023
What does Gen Z want, and how can institutions use this understanding to boost their digital footprint and enroll more students?