At the beginning of the pandemic, institutions were forced to close physical classes within a few short weeks, and faculty had to transition their teaching fully online. Many institutions used traditional business-focused video conferencing systems for hosting online classes. It was not a smooth transition.
The challenges arose in part because the physical classroom is very different from the virtual classroom, and video conferencing systems didn't contain the necessary tools to support instructor objectives. As a result, during the transition, instructors encountered many difficulties that hindered their online teaching when compared with teaching in the physical classroom: Students struggled to stay engaged, lessons didn't land, and it was harder to elicit participation.

As the pandemic lengthened, video conferencing systems attempted to improve in areas of integration with the LMS, engagement with students, and analytics for instructors. However, there remain large gaps in each of these areas.

Virtual classrooms could and should evolve towards creating a better learning environment, one that enables faculty and student success.
How Virtual Classrooms Can Aid the Learning Process
In the physical classroom, faculty members in higher education have several objectives in common: adeptly manage the class, successfully teach the curriculum, and effectively care for their students. For an online class, these objectives are the same, and there are several ways that virtual classrooms could evolve to assist, rather than hinder these objectives.
1. Managing the Class
Challenges that arise in higher education classroom management tend to be participation-based. Some student groups aren't as energetic as others, some are a little too lively, some discussions lag while others go off-topic, and some outgoing students can monopolize conversations.

To address these concerns in the physical classroom, instructors structure their lessons to specifically engage thoughtful participation. They place students in discussion groups and vary class pacing to create an effective learning environment for everyone. They see which students are struggling and give them space to participate, encourage their responses, and reward them for engagement.

One advantage of the virtual class is that switching between polling, chat, and other forms of engagement is almost instantaneous. The virtual classroom could help the instructor with structuring the class by starting each class with a review of the previous content (based on information stored and pulled from the LMS), help the instructor with teaching new content by scanning the slides and suggesting ways for engagement (more on that below), and highlight to the instructor students that are actively participating (or not), and at the end of the class, make it easy to summarize the key points of the class to assist in students' recall and review to further internalize and understand the content.

The virtual class could track student engagement, as every mouse click, emoji, chat message, talk time, raised hand, and record this in the LMS for later retrieval. This data can play a key role in helping the instructor know who is participating (and who is not) to maximize student engagement.
2. Teaching Knowledge and Skills
When an instructor begins teaching the class, they consciously (or unconsciously) assess their students current level of understanding of the material. They ask themselves "At what stage is the class in learning this new content?"

Students learn new skills by going through a set of stages (remember, understand, apply, etc), and each stage builds upon the previous.

For example, consider features such as polling, chat, shared notes, multi-user whiteboards, and breakout rooms. Some of these features are good for recall, some are good analysis, and others are better suited for creating and evaluating. The following table shows how each feature could be used at the various stages of learning, using the stages defined in Bloom's Taxonomy.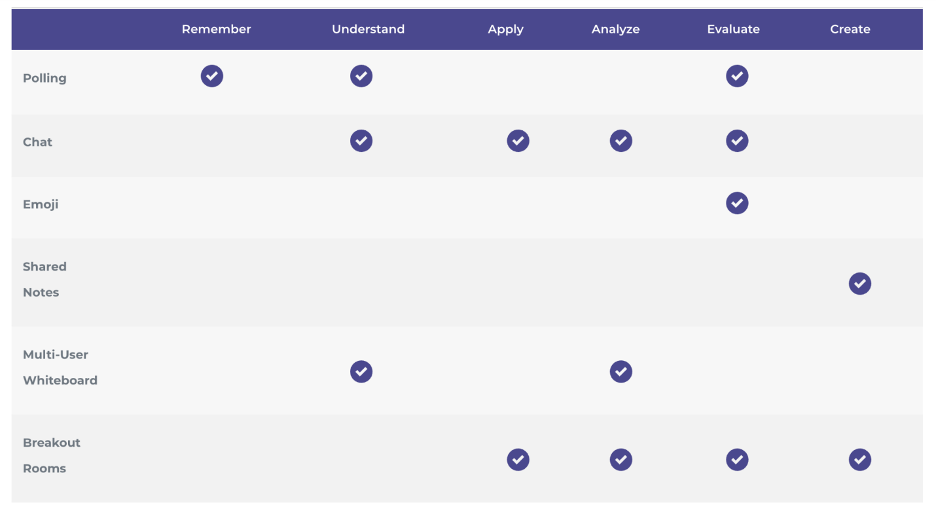 The virtual classroom should know about such stages and actively help the instructor move students through them by offering multiple pedagogic-based tools to engage the students in the class, engage with each other, or engage directly with the content itself. The virtual class could free up the cognitive load on the instructor to focus on the third, and perhaps most consequential part of the class: coaching individual students.
3. Coaching Individual Students
Many of us remember a particular instructor that spent that bit of extra time with us, helped us overcome an obstacle, and made a huge difference in our educational lives. While educators tailor instruction to engage the whole class, within that classroom space there are opportunities to coach at the level of the individual student. The challenge is how to do this effectively during a live class.

In the physical classroom, one-on-one interaction is sometimes difficult to achieve when they are busy teaching and moderating the class. Furthermore, they may not wish to embarrass students by singling them out, or it might be difficult to create a private discussion within the context of the physical class.

In the virtual classroom, the environment can monitor and update the instructor on how each student is doing, notify the instructor if a student seems to be struggling, and make it easy for the instructor to have a quick, one-on-one interaction with students. This interaction can be either through private chat or through a full collaborative environment that is walled off from other students for a few moments that gives the student the sense the instructor sees them and cares about them.
The Future Potential of Virtual Classrooms
Most instructors would agree that online teaching has, so far, been a mixed success, and the potential of virtual classrooms remains unrealized.

A virtual classroom should be much more than just a medium for lesson delivery. It should incorporate the goals of the teacher and student and exploit the technical advantages that a real-time, online environment can provide over a physical environment. It should assist the instructor in effectively engaging the class through multiple stages of learning.

One of the ways an institution can improve the culture of care on campus is to invest in new technologies that allow faculty and staff to collaborate and share student-related concerns. New communications solutions make it easy to report concerns and consolidate outreach efforts. Because many of these solutions have quick alerts, institutions can intervene with students early and promptly get them the help they need.
This guest blog is authored by Fred Dixon, the CEO of Blindside Networks. Blindside Networks is the company that created BigBlueButton, a virtual classroom system that is focused on helping teachers teach and learners learn.