All Blog Posts
We are thrilled to reveal that the Jenzabar Internship Program is sponsoring 43 interns for the summer of 2019. This unique program provides students from colleges and universities that use Jenzabar solutions, the opportunity to gain hands-on, real-world experience working in higher education while earning a competitive wage throughout their internship.
This year, the Jenzabar Internship Program attracted applications from partner schools around the world. This year's honorees come from as far away as Nairobi, Kenya. Students are selected for this highly competitive program based on their positivity, diligence, enthusiasm for learning, and communication skills – all attributes that drive the Jenzabar mission.
Awarded Approximately 200 Internships and $1 Million Since Program Inception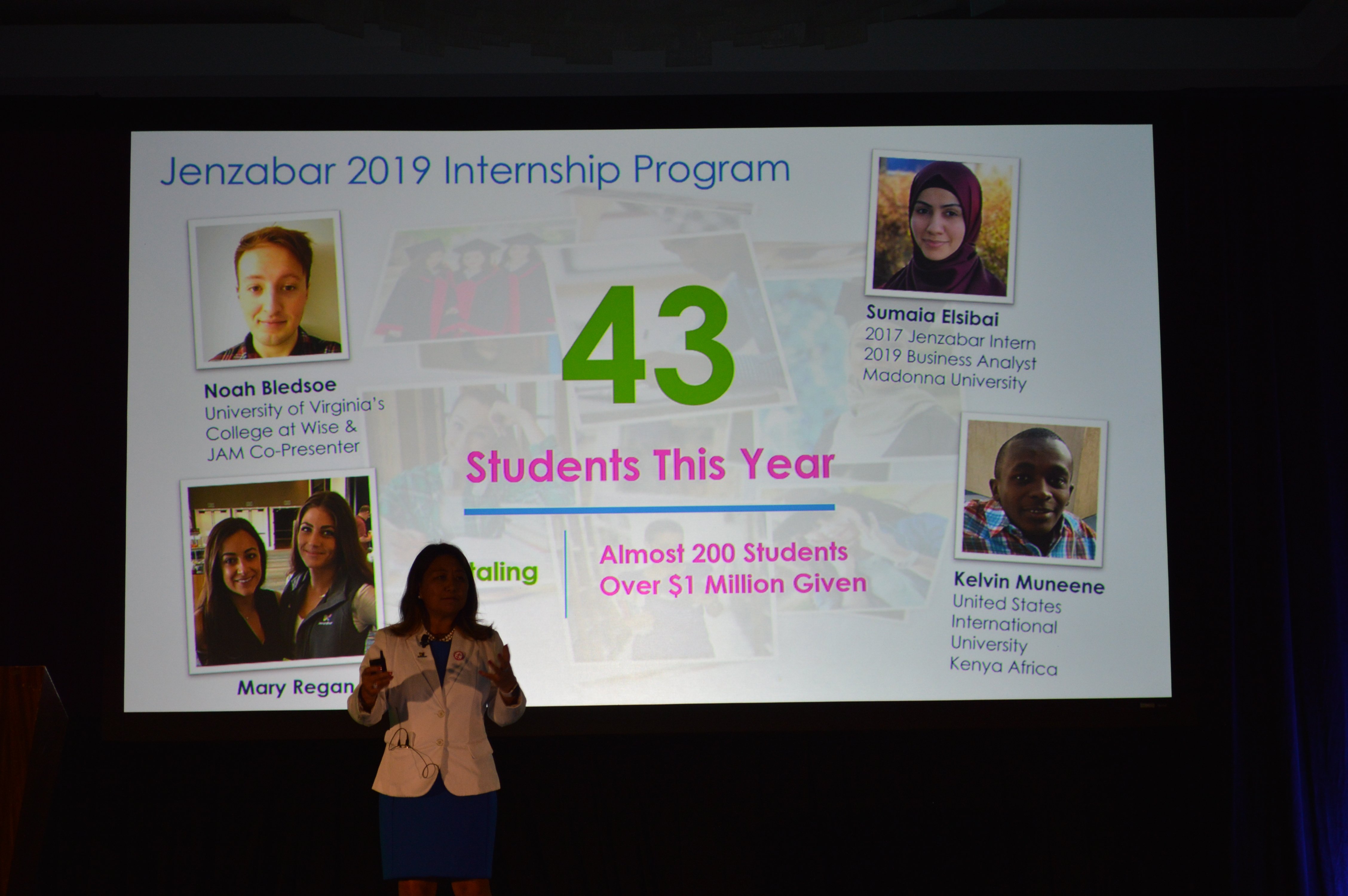 Since the Internship Program's inception in 2017, Jenzabar has awarded approximately 200 students with paid internships to total over $1 million. Similar to the company's approach to servicing its partner institutions, the internship experience is tailored by each campus to each student awarded. Participating schools have ownership over the internship curriculum, allowing the program to fit the needs and schedules of all involved. Students have interned in roles within Admissions, Financial Aid, Development, Information Technology, and other departments across campus.
Interns Participate in JAM2019
As part of the Jenzabar Internship Program, interns participated in JAM, Jenzabar's Annual Meeting an annual gathering for Jenzabar customers held May 29-June 1, 2019 in San Diego, California. At JAM, interns had the opportunity to participate in product training, networking events, and informative sessions where they gained invaluable professional experience.
"Jenzabar is committed to creating a better experience for students and making it easier for students to reach their highest potential," said Ling Chai, President and CEO of Jenzabar. "We are pleased to support these exceptional interns with their talent, enthusiasm, and drive as they work to make a difference at their institutions."
2019 Jenzabar Interns
This year's passionate team of interns are as follows:
Abigail Martineau, Palm Beach Atlantic University
Amy Young, College of Southern Idaho
Ariana Copeland, Columbia International University
Arnold Mukisa, Central Methodist University
Brennan Revells, North Greenville University
Brian Davis, Charleston Southern University
Calista Mason, Randolph-Macon College
Christian Bateson, West Shore Community College
Debra Brown, Simmons College of Kentucky
Emily Lathrop, Mid-America Christian University
Erika Kauffman, Geneva College
Ethan Kohl, Thomas More University
Fatema Fakih, Madonna University
Francisco J. Reyes González, ICPR Junior College
Hannah Mitchell, University of Saint Joseph
Isaac Bleecker, Gordon College
Jacqueline Sanna, Bay Path University
Jennifer Herrera, Schreiner University
Jess Moser, Florida Southern College
Joel Mejia, Silver Lake College of the Holy Family
John Stevenson, Paris Junior College
Justin Knill, Mount St. Mary's University
Karuna Bhaila, Webster University
Kelvin Muneene, United States International University- Africa
Lav Patel, Robert Morris University IL
Lisset Diaz, Dominican University
Magdalene Anima Asare, Cottey College
Manuel Pierre, Benedict College
Matthew J. Davitt, Texas Lutheran University
Nathan L. Moore, Saint Francis University
Quinlan Harsch, Florida Southern College
Ricardo Rendon-Habana, Montreat College
Samuel Fonseca, Clear Creek Baptist Bible College
Samuel Motokatla, Mid-America Baptist Theological Seminary
Sarah Stauber, Lake Forest College
Semeone Mundy, Chatfield College
Danny Fourtner, Mid-Plains Community College
Sydney Jendrusch, Schreiner University
Thurman Trapp, Shaw University
Vincent E. Payne Jr, Park University
Zach Camden, John A. Logan College