Spark451
a Jenzabar Company
Marketing to the Next Degree°
Strategic Enrollment Marketing, Creative Services, and Technology
Spark451, a Jenzabar Company, is a higher education marketing firm delivering effective campaigns through research, strategy, communication planning, and breakthrough creative. Specializing in enrollment marketing, student search, creative services, and digital media, we integrate a multitude of communication channels and digital platforms for effective student recruitment, advertising, and media.
At Spark451, we take marketing to the next degree by combining creativity with powerful technology to achieve measurable results.
Learn More
Core Services
---
Enrollment Marketing
Data-driven recruitment strategies that attract the right students.
Search Smarter
Spark451's unique industry insights, creativity, and dedicated account strategy really stand out among other agencies in the higher ed space. Working with Spark over the years has enabled us to more effectively market to, support, and retain our students.
Joey Schmit, Assistance Vice President, Marketing & Communications, New York University
Enrollment Marketing and Creative Services Solutions
Student Search
Build your next class with a response-driven campaign customized to your institution.
Admitted Yield Program
Build excitement and help admitted students secure their enrollment.
Digital Marketing
Get the most out of your ad budget and reach the right person, with the right message, at the right time.
Web Design & Development
Strengthen and modernize your institution's website with data-backed insights, solid SEO, and responsive, refreshed design.
SparkAssist CRM Support
Enlist the support you need to unlock your CRM's full capabilities and develop advanced solutions to reach your goals.
Publication Suites
Evoke an emotional connection through materials that tell your institution's unique story.
Direct Marketing
Reach the right audiences with messages that resonate and spur action.
Communications Strategy
Build a refined tactical plan for your institution's communications.
Data Science & Analytics
Leverage data to make informed decisions and create a more personalized marketing plan while maximizing results.
We'd love to have an informal conversation about your goals and challenges.
---
Contact us today, and we'll get right back to you.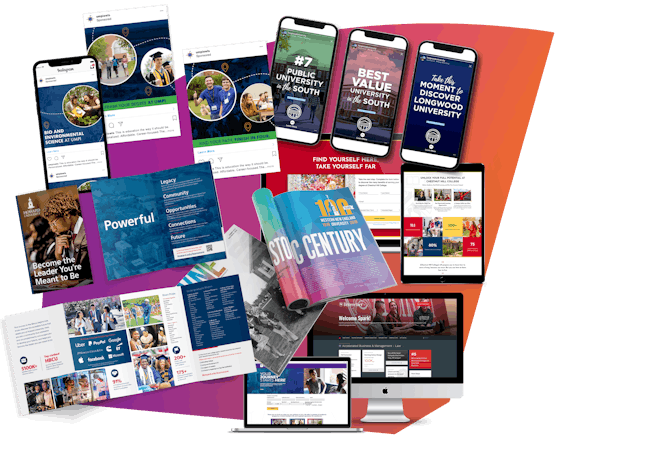 Award-Winning Work That Gets Results
Check out our latest portfolio to see how Spark451's Creative Services team helps colleges and universities impress and engage students.