All Blog Posts
We recently wrapped up our Jenzabar's Annual Meeting (JAM) held in beautiful San Diego, California from Wednesday, May 29 through Saturday, June 1 where the Jenzabar community gathered to learn, share, and connect. JAM attendees learned about advances in technology, shared best practices, and connected on Jenzabar's vision to deliver a high-quality education.
Life is Good's Chief Optimist Bert Jacobs Keynotes
JAM attendees were treated to an inspiring keynote address by Life is Good's Bert Jacobs where he shared stories that illustrated how optimism is most powerful in the darkest of times. Bert's passion for life fueled the creation of a fully integrated business model dedicated to helping kids in need. Life is Good and Bert Jacobs spread the power of optimism through inspiring art, and groundbreaking nonprofit work.
We were proud to share the podium with Bert as Jenzabar is motivated by a similar vision – we strive to make a difference in the world and in our communities by supporting numerous charitable organizations.
Unveiled Our New Brand
We received very positive feedback on the new branding! It conveys our vision of transcending traditional higher education models, reinventing higher education, creating opportunities for anyone in the world to discover, and develop their inner masterpiece. The Jenzabar butterfly represents our vision coming to life. It is bursting with vibrant color, just as education paints possibilities onto our blank canvases. Lines of motion flow across its wings, showing how access to learning gives flight to finding our passions.
Jenzabar Analytics Takes Center Stage
At JAM the Jenzabar community got a chance to see the latest technological advancements in Jenzabar One. This year our new Jenzabar Analytics, a portfolio of descriptive, diagnostic, and predictive analytics tools was a crowd favorite. Attendees viewed demos throughout the conference of this powerful new analytics solution that enables higher education institutions to gather, organize, assess, and transform data into actionable insights for more confident decision making.
Packed with Informative Content
There were over 350 content-rich breakout sessions at this year's JAM. Attendees who represented users at every skill level, from new users to power users, and from every office on campus experienced a learning environment where they discovered how their peers are cutting costs, boosting revenues, maximizing their technology, and optimizing data for decision-making reporting. Attendees heard about new and forthcoming products from Jenzabar and learned about new methods, time-saving techniques, and best practices from peers.
The Universe Room at JAM
One of the hottest places to visit at JAM was the Universe Room. It was THE place to interact with the Jenzabar community and discover the newest technologies and services from our valued partners. The Universe Room which served as the Hub of JAM, featured exhibits, internet kiosks, meeting areas, an information center, and refreshments.
USS Midway Museum
On Friday night during JAM, the Jenzabar community gathered at the USS Midway Museum to touch a piece of history and enjoy a stunning view of the city and harbor. The sold-out event featured dinner, dancing, and exploring interactive exhibits and displays that showcased naval aviation history. It was an unforgettable night on the historic USS Midway.
Customer Recognition
Each year at JAM we recognize distinguished customers. We were honored to recognize Denise Cason, CIO, North Central Texas College with the JenzaStar award and Mike Penrod, Senior Database Administrator Team Lead, Jenzabar with the Cornerstone Award.
We also welcomed 14 clients into the 25 Year Academy this year, joining 170 other longstanding clients. We appreciate your commitment to our partnership!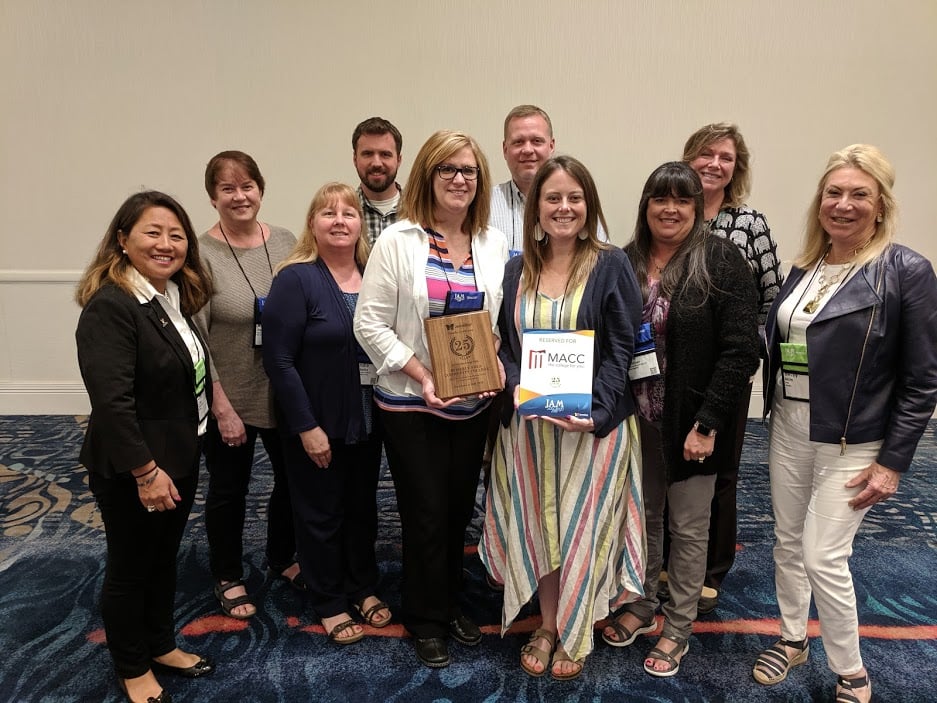 Crown College
Dodge City Community College
Iowa Valley Community College District
Judson University
Moberly Area Community College
Northwestern College
Quincy College
Sarah Lawrence College
Shaw University
Southeastern University
Trine University
University of Arkansas - Pulaski Technical College
University of Science and Arts of Oklahoma
Webster University
JAM Attendees Engage with MyMobileJam App
JAM attendees were able to use their mobile devices to efficiently navigate the conference. Using the MyMobileJam app attendees were able to search the conference program, build their schedules, download session presentations, navigate the hotel, find fellow attendees and keep up with JAM social media.
We look forward to seeing you at JAM 2020 in Orlando, Florida from May 27 to May 30! Mark your calendars!

Recent Blogs
Higher Education Trends
Demystifying AI-Powered Automation: A Practical Example in Higher Education
September 27, 2023
Many colleges and universities are worried about artificial intelligence, but how can AI benefit an institution?
New Student
Finding Students Where They Are: Fueling Enrollment and Building Brand Awareness Among Gen Z
September 20, 2023
What does Gen Z want, and how can institutions use this understanding to boost their digital footprint and enroll more students?